Providing support to local families, refugees and asylum seekers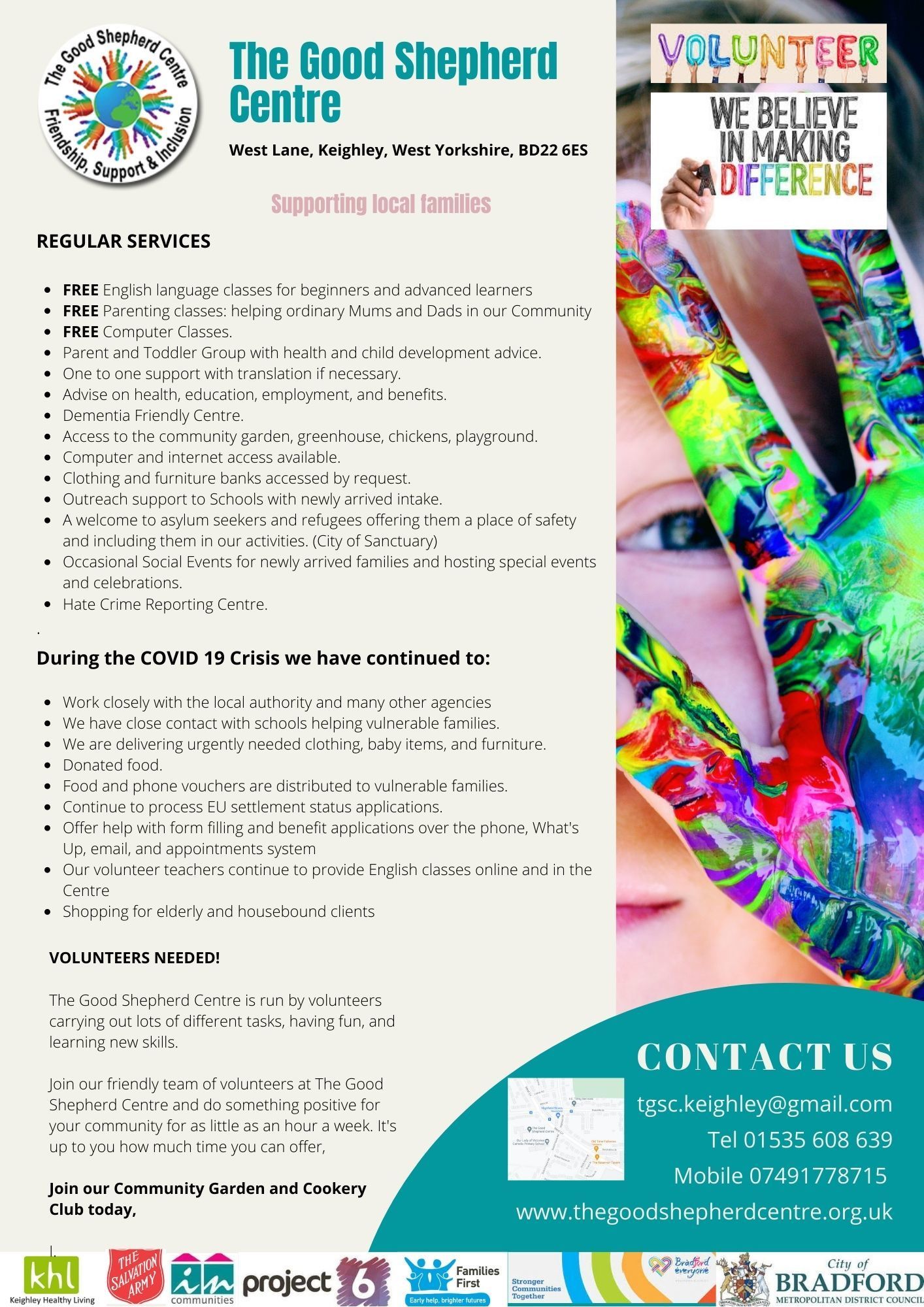 Pre-Covid 19 existing provision
FREE English language classes for beginners and advanced learners (now being done remotely).

FREE Parenting classes: helping ordinary Mums and Dads in our Community

FREE Computer Classes.

Parent and Toddler Group with health and child development advice.

One to one support with translation if necessary.

Advise on health, education, employment and benefits.

Dementia Friendly Centre.

Access to community garden, greenhouse, chickens, playground.

Computer and internet access available.

Clothing and furniture banks accessed by request.

Outreach support to Schools with newly arrived intake.

A welcome to asylum seekers and refugees offering them a place of safety and including them in our activities. (City of Sanctuary)

Occasional Social Events for newly arrived families and hosting special events and celebrations.

Hate Crime Reporting Centre.
Pre-Covid 19 - working with Schools
Using already established links with schools to communicate with students and through them with parents. We also support teachers.
Providing the Centre facilities to groups for away days and training.

Centre manager visits schools regularly as support for parents' evenings and interviews with parents.

Protecting vulnerable young people from exploitation.
Establishing community champions
We encourage people to act as leaders in their groups to support and encourage involvment in the Hub activities. This will help community organisations to speak to individuals and groups who may feel isolated.

Providing a safe place for victims and witnesses of crime.

Support for those suffering from domestic abuse.

A wider network for statutory bodies and voluntary organisations to access and engage with new and emerging communities.
Building trust:
We work in areas of deprivation with marginalised groups including refugees and asylum seekers.

Providing opportunities for communities to air and discuss issues and opportunities for statutory bodies to respond.

Helping to combat organised crime gangs.

Supporting vulnerable individuals.

Helping to make more efficient use of police time by establishing a forum for communications with whole communities and for crime prevention.

Providing a welcome to people who are new to the area.

Reaching out to people who may feel isolated for whatever reason.

Breaking down barriers, sharing common values and respecting differences.

Plans to use a new kitchen to provide hot meals and lessons on cooking and nutrition.
EU Settlement Scheme Registration Centre:
Recognised by the Home Office, the Centre has reached out to many families.

Over 2000 applications have so far been completed for people of different nationalities including: Polish, Slovakian, Bulgarian, Czech, Dutch, French, Hungarian, Italian, Lithuanian, Maltese, Romanian and Spanish.

The process involves in depth interviews and has thrown up issues of concern for new and emerging communities.
Aiming to Extend Community Cohesion
Providing a safe place that can be accessed by different statutory organisations to address specific topics: police, health care, social workers and others, thereby reducing the day to day demand on their services and improving their contact with many more people.
Establish a Hub that can promote good practice.

Promotion of positive contact between police, health workers, social workers and other agencies providing a platform for engagement.

Promote values of inclusion, cultrural and religious pluralism, of mutual tolerance, respect and esteem for our different traditions.
During the COVID 19 Crisis we have continued to:
Work closey with local authority and many other agencies including, Stronger Communities Together, Salvation Army, Incommunities Bradford (Housing rental agency), Bradford Council ward officer, Project 6 (drug and alcohol abuse), Families First, Keighley Healthy Living, Project Smile, Police engagement officer, Bradford Council's engagement co-ordinator for refugees, Keighley Town Council.

We have close contact with schools helping with vulnerable families.

We are delivering urgenty needed clothing, baby items and furniture.

Donated food.

Food vouchers are distributed to vulnerable families.

Continue to process EU settlement status applications.

Offer help with form filling and benefit applications over the phone, Whats Up and email.

Our volunteer teachers continue to provide English classes online

Shopping for elderly and housebound clients

Email newsletters to keep a group of friends of the Centre updated.